Forgotten your password?
The archive provides a self serve feature allowing the individual to reset their own password. The process is:
1. From your archive logon screen, select 'Forgot your Password?'
2. Enter your email address (must match the primary email address configured for your user settings), select Continue.
Screen confirmation: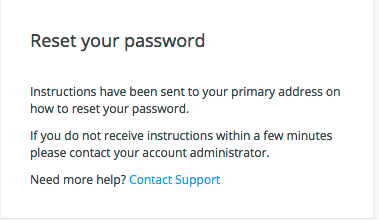 3. Check your email.  If you have not received it within 10 minutes, please check any spam/junk mail folders or solutions you may be using.
Note: upon requesting a password reset, an email will be sent that contains a special url to reset your user account.  Please note that this url / token is single use only & will only be valid for 2 hours from the point it was request.  Attempt to re-use or use after this time or will result in failure to set your password.
4. The email will contain a link to reset your password.  Follow the instructions and log in using your newly reset password.
 Note:
If you have SSO enabled upon your account, password change/resets are not applicable as your authentication is managed by your SSO service (Microsoft/google)