Randomized searches are commonly used for industries that have some form of regulatory compliance needs, the there is the requirement to perform a level of review of some of the stored data in the archive.
To generate a randomized search, create a new search. Once the required search criteria is in place and the results returned are appropriate, the search will need to be saved, and a request submitted for the search results to be randomized for review at a later stage.

Steps:
Create a new search
Confirm results in the search are appropriate
Save the search by giving it a name, some details and setting the Randomize Results option (as shown below)

Set the percentage value

of your choosing, and the service will automatically select X number of assets from the results to display ongoing.

Save

the search
A banner will appear advising that your randomized search is being processed. After it is complete, it will present you with the randomized selection of emails.
You can see the individual summary for the search, showing actions performed on the results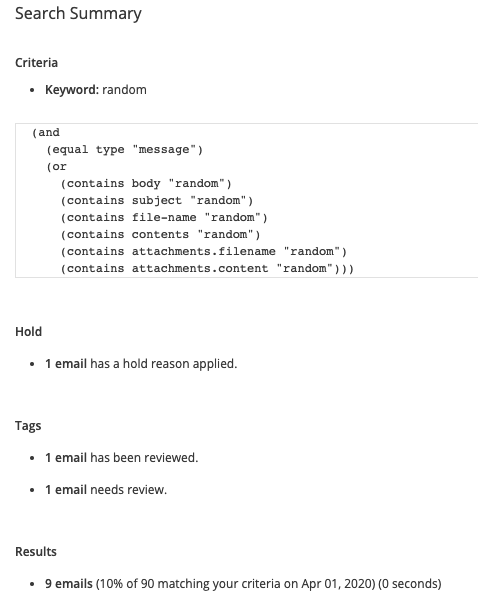 Note:
You cannot change the criteria for a randomized search, but you can create a new randomized search should you require
The same randomized results will always appear in the search
Randomized searches can be deleted
Activity with the searches is retained in the audit logs

`